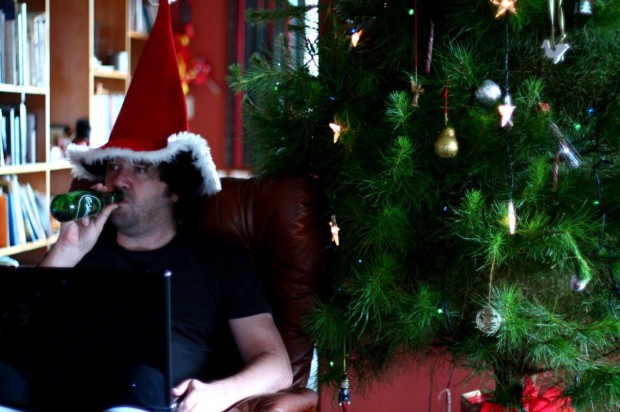 The hotel I was staying in in Aus was doing some total price-gouging thing with the internets, so I went through 4 days only logging for 1/2 an hour each day. I got drunk twice and read a book.
Then I got back to NZ, and found myself (about a week later) explaining to people that the reason I only leave the house about once every 3 months or so is that I have a chronic internet addiction. Which is true enough, but it's mainly social media. Twitter and Facebook have become the things I do instead of doing anything else. It is a proper addiction – little dopamine hits every couple of minutes.
That Clay Shirky became quite famous for saying that Television served the same purpose as The Gin Craze… ie: it soaks up cognitive surplus. Spare brainpower that's lying around. He was of the opinion that The Internet is freeing us from TV, and fostering the greatest explosion of human creativity ever. He may be right, but in my experience, social media is soaking up even more time than TV did. I think people will look back on this era and compare it to the gin craze. A temporary over indulgence.
So I gave it up for a week… managed to get through 5 days before (surprise surprise) drinking a hell of a lot of gin, oddly enough… got drunk and went on facebook shooting my mouth off. Didn't go on twitter though.
So now a week later, I'm seriously considering giving social media up permanently.
In the absence of social media, I've started writing. Proper writing, not just pinging stray thoughts to twitter 40 times a day. I've basically got about 3 extra hours a day. I could write a book a year in the time I spend on twitter and facebook… as it is, I can't even READ a book a year, because my concentration-span is shot.
The downside of social-media-abstinence is that I don't know what's going on.
There's no point watching broadcast news… they don't really cover what's important. I also quite like my twitter/facebook people. Don't want to disconnect completely. Maybe I'll just turn up once a week, or have a strict ration of 1/2 an hour every morning or something.
Another problem with it is that social media has become my entire social context. I don't really have that much to do with anyone outside it. I see friends etc about once a month or so. It ain't healthy.
So am knocking twitter and facebook on the head for a bit. I've also started donating $10 to charity every day. Not sure that's sustainable, but… there it is. It's half way through October and I haven't actually started any of my new year's resolutions yet.