Can't quite believe it's this easy… still, there it is.
So about a year and a half ago, there were all these things on TED by biotech people who all got standing innovations because it looked like they were going to save the world… and around the same time, the DIY bio thing started to make waves. I joined the DIYbio list for a bit – then got into flame-wars with the people there so left… I don't think I'd ever encountered a cleverer bunch of stupid people (or vice-versa) in my life. What they knew about biology/org-chem was pretty incredible – but balanced by their willful (or not) blind-spot regarding ecology.
The only convincing argument I came across re: the dangers of introducing new organisms into our life-support system is that "we already have all of the problems that new creatures might create, and we aren't taking them seriously now, so why worry?"
Personally I don't think you can (or should) stop information-flow… and that means tech-advancement… I don't think that scientists should have to sit around and wait while fucking old "ethicists" hold irrelevant debates etc. I think we need to protect ourselves through diversity – and by having highly (and specifically) educated populations. So I'm in favour of it all… even though I think that there are a fair few DIYbio people too stupid not to fuck it up. These are the same sorts of people who thought it would be a good idea to introduce rabbits into NZ and Aus. Then thought it would be a good idea to introduce ferrets to control them. Got a problem? Introduce a new species. Got 2 problems?
Still… long time coming. Every 5 years, our lives are changed by a software development that nobody had even imagined. Every 5 years. The Biotech Revolution on the other hand, has been en-route since the 70s, and I still can't think of a single incidence of it that I've actually seen anywhere… Frankenfoods? Actually I haven't noticed the difference. Good times are-a-comin… but they sure comin slow.
So that's all the negativity out of the way.
Still… this guy's from the future:
Cathal Garvey demonstrating Do-it-Yourself DNA extraction in a tent from smarimc on Vimeo.
The combination of temporary shelter, and hi-tech/low-tech DIY/FAB machines has "future" written all over it (sounds like Vinay in the background as well if I'm not much mistook :)). Favela Chic and all that… it needs to be chic. Our physical systems evolve/conform to the needs of our information-systems… and whatever moves the fastest wins. We still have the roads of the Roman Empire, our cities today are built around the needs of cars – I'm sure there are loads of other examples, but it's a general rule. As George Lakoff will tell you, "learning" involves physically changing brain structure. As above, so below.
So it's the early 21st C. What's to come? Dunno… but one thing you can bet, is that we're going to have physical structures who's specific purpose is to route around the obstructions created by 20thC institutions holding onto the past.
Or to put it another way, Favela Chic ain't just going to happen because people are poor. It's also going to happen because it's the only place you can get anything done without retards from the past trying to get in the way. A place where lawyers can't find you, and if they do, you can kill them.
A little sci-fi maybe, but if biotech comes anywhere close to what we're imagining it might do (with our sub-5-year imaginations) then the drivers are going to be insane. Exxon gave $600,000,000 to Craig Venter. Give me the Napster of that.
So tents I think. And hi-tech/low-tech DIY/FAB machines.
Check this out:
Synthetic Bio Documentary: Transgenic Spidergoats Brief from Field Test Film Corps. on Vimeo.
It's from the Designers & Artists 4 Genomics Award in which someone attempted to make bullet-proof material using spider-silk… which has fairly remarkable tensile properties… and they did and they didn't succeed in that, but check out how they made it. Goats milk? Holy crap!
Won't someone think of the kids!!! – what happens to them if they drink spider-protein milk? They get all spidery and frightening? Will it fuck with their minds and cause them to climb trees?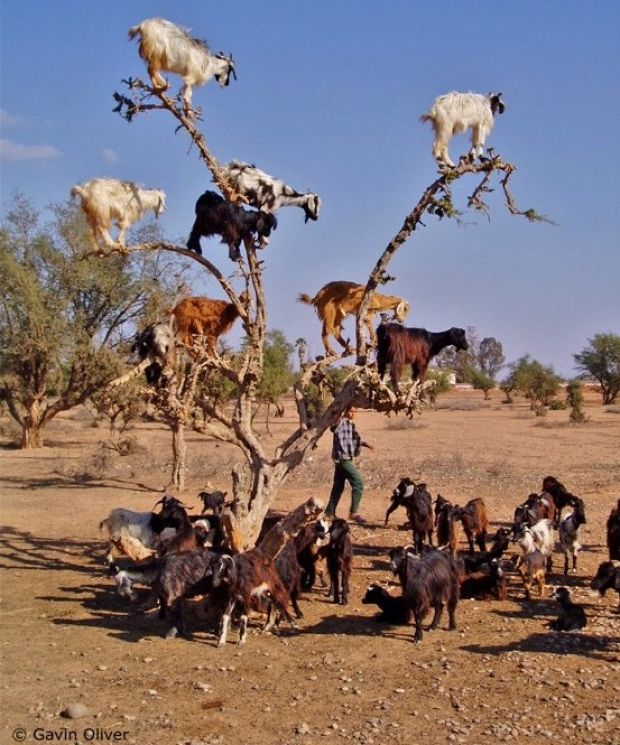 The clip above is from a to-be-made documentary about synthetic bio – which has been (successfully) funded on Kickstarter
I get a bit of a chill whenever they talk about "companies" doing stuff… I mean I'm a company director and I do know that a company is kindof a sensible package for getting stuff done – but… you do know that companies are essentially psychopathic right?
And the other thing is – in my experience, if you try to broach the issue of "what happens when you introduce a species that can out-compete the native species" to people doing this stuff… they don't seem to understand the question – it's like talking to libertarians about social-policy. All you get is really simplistic justifications of something they've already decided – it's not even theory. It's not even hypothesis. It's wishful thinking.
Now I'm not imagining goats spinning webs, but spider protein in goats is not micro-biology.
I feel like I'm being a little over-acidic here – the DIY guys are nice people… but… "what happens when you introduce a species that can out-compete the native species"?
Apropos of that, there's an exhibition in Belgium at the mo, where someone has made a garden/biosphere thing of a collection the alien, invasive (non)-EU species.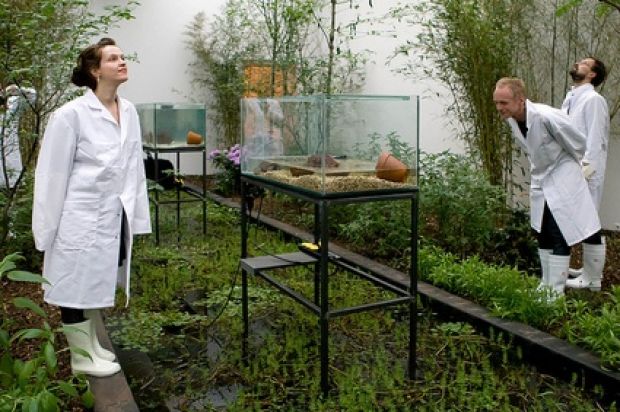 People visiting it have to dress up in white coats like proper scientists etc, because people are the ultimate contaminating species. It's in a tent.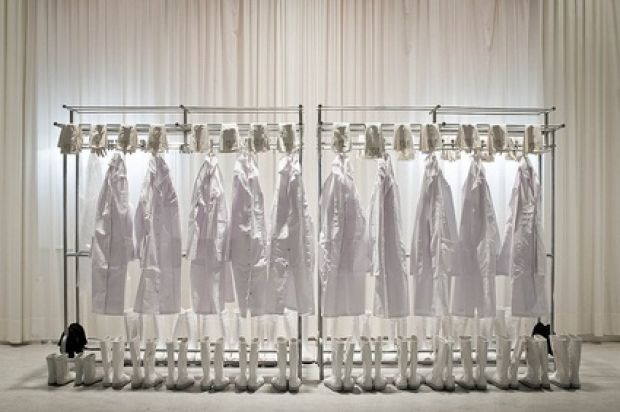 Ok, it's not in a tent – it's in a gallery of some sort by the looks. It was set up in May (finishes tomorrow) and in the words of the writer of the link above
"Verdonck's garden opened in May and looked like a little piece of Eden. All lush flowers, green parrots, colourful plants, cheerful amphibians and mysterious moustachioed fish. When i visited the show a week ago, the place was still jaw-dropping but in a rather post-apocalyptic way. It felt a bit desolate. Good care was taken of the fauna and flora but the flowers were perishing, the parakeets had to be taken away because they were wolfing on any flower or fruit they could get their beaks on, tadpoles were vanishing, etc."
Balancing biospheres is fucking hard – I know, I used to do it when I was a kid. The Axolotls eat everything.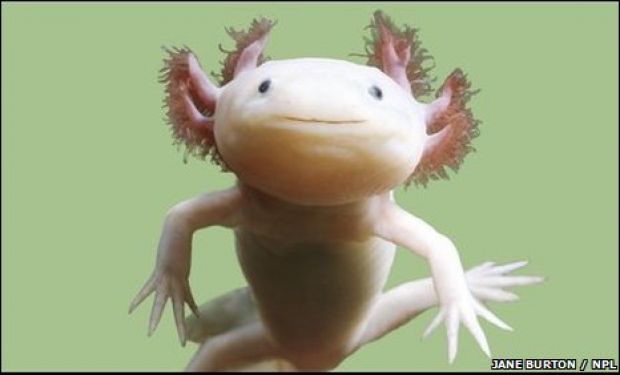 The same axolotyls that are nearly extinct in their natural environment in Mexico, because… of introduced species.
Ok, this is a scattered collection of stuff kindof loosely involved with… DIY.
There's a point to all this somewhere, but I don't know what it is… so I guess it's just a snapshot of various things I've tangled with recently.
1) Ironbuds.
I used to spend about $20 on earphones a month because they're made out of the flimsiest shit in the world… then I tried the $50 because I thought they might be stronger… they weren't but sounded so much better than my monthly earphone bill is now $50.
Why? Because the manufacturers operate as a cartel, not competing on robustness… inbuilt obsolescence. Now, we all know how these things should be designed – they should be modular so if one bit breaks, you only replace one bit, not the whole thing. But they don't do it… because they're about leaching maximum $ while providing minimum value, because that's what corporations do.
Enter Kickstarter… and Ironbuds. Stupid "splash" photo, great, necessary and cartel-busting idea. Investing in this costs less than buying a new set of earbuds. Bargain.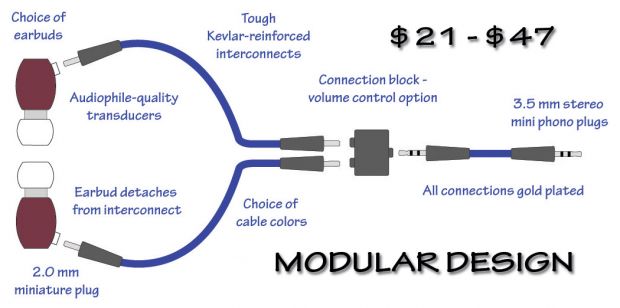 I'm starting to use kickstarter technology as a bit of a shopping-outlet… because I really like the idea of product design optimised for people actually using the product… rather than optimised for extracting money.
2) Reprap variant that doesn't use threaded rod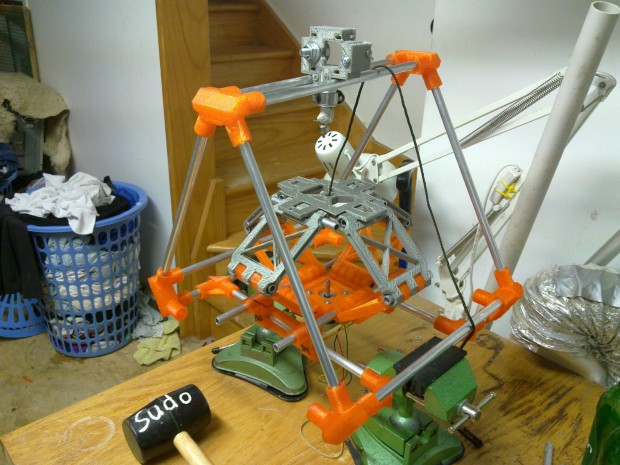 And it's got a Sarrus Linkage for the up/down bit… which is cool. Looks a bit like the terrible stuff they sell in $2 shops, but the vitamin parts are slowly dwindling. Incremental (decremental) innovation… but I'm a quantum kind of guy. As I keep saying, I'm still looking for real-time-sensory calibration… and something that looks a bit like this…
3) Trobot
Little desk-top 6-axis robot, that is controlled using grown-up robot software. Needs to be a bit more robust and non-wobbly than this version, but I think this is what CNC/repraps should look like.
4) There are a couple of DIY CNC devices on Kickstarter actually…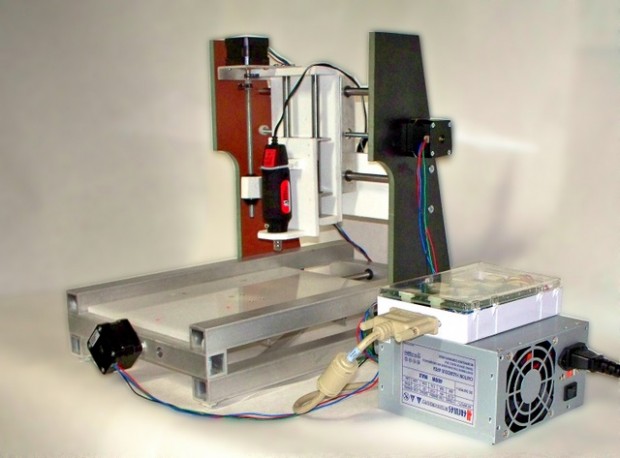 MY DIY CNC : Little machine that costs about $600… holds a dremel, does CNC with it. Can also hold a laser… there's a video with it using a little 1kw one… etching only. I don't need etching, I need something that will cut steel.
Cool though… getting there.
Another variant, also on kickstarter, also massively successful in terms of funding.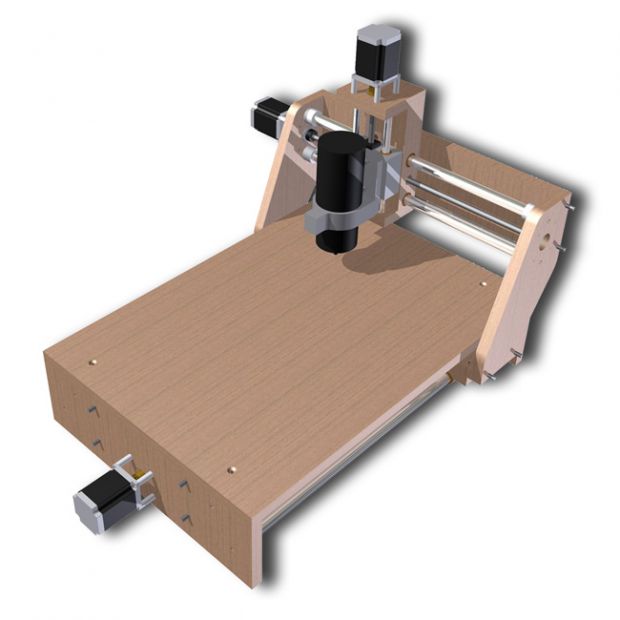 5) I've started playing with online shops and the one I wound up with is this: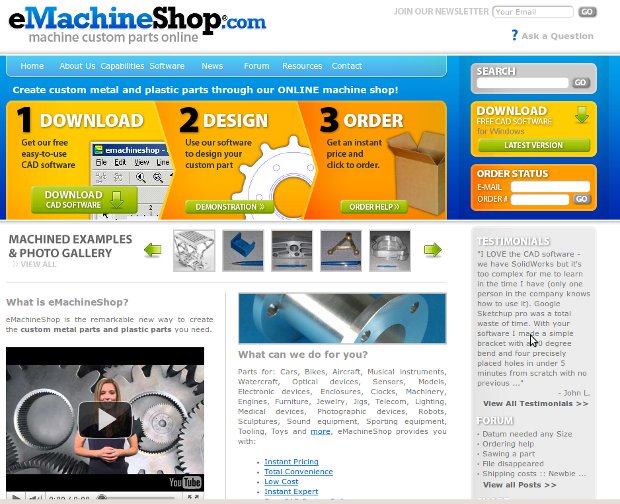 Has the easiest to use CAD software I've ever seen – which isn't saying much, because they are ALL incredibly hard to use. I've started playing with Autodesk 123D – which is a free-download thing… which looks reasonably comprehensive (and by that I mean 1.5GB)… but like all CAD software, is really hard and unintuitive to use. You'll spend hours just trying to select faces or objects. You want to copy and paste an object? It'll take an hour, and in the end you'll give up. We know how graphics software is supposed to work… it's like photoshop or gimp or fireworks… CAD software is just wrong.
Anyway, eMachineShop is the easiest I've seen…. and it checks the integrity for you… you can choose the materials, and the finish… the process, and it will give you a quote directly from the download. This is the future. Make a design, choose your materials… get a quote and off it goes. What Ponoko does I guess… but a lot more comprehensive in terms of different manufacturing techniques.
And if you want to make a thumb-tack, it'll cost you over a hundred dollars a go.
Fuck me this shit is expensive…
I tried that TinkerCad – online, in-a-browser software the other day…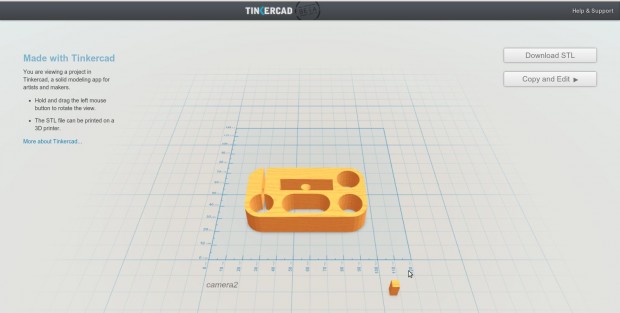 … which is CAD software that has been so cut-down that getting anything done becomes a baffling intellectual exercise. After about 4 hours, I managed to make this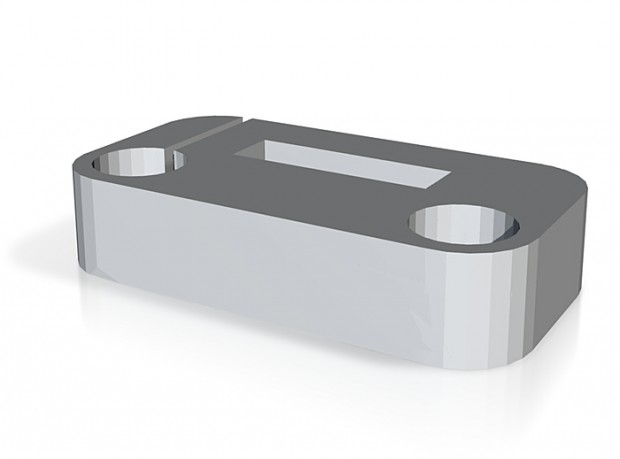 10 cm wide – costs about $50 on Shapeways… I guess because it's solid… I thought that was extortionate. $50 for a piece of plastic with some holes drilled in it? I need it to be solid. I found this other 3d-print-on-demand place in Aus… and they were charging $200.
I don't know… maybe I'm new here, but everything here seems to cost a LOT more than it should.
I think the 3D DIY design->execution thing has quite a long way to go. This stuff is still too expensive to experiment with… well, for me anyway. I guess people are doing it – but it's not like lego where people can really play without it costing $50-$100 every time they want to try something.
–
I'm not sure about "The Maker Movement" actually… I have a feeling that it isn't really to do with hardware at all… but is actually about blogging… and the fact that people need something to write about, and "people actually doing something" is more interesting that people who don't… and the idea that "I could to that too" is inherently interesting to people.
I kindof think that that is what it might be about, rather than something that's addressing any particular need. It's still about "meta". Information. Memetics.
I've watched this video a couple of times (ok, once) and I'm still not really sure what it's about – something to do with democratising biotech. I found the advert quite irritating to be honest, but I find everything quite irritating so don't worry about that. It's interesting from a number of different directions, because…
a) it's about democratising biotech, and that is kindof vital for the survival of humanity I think and
b) they talk about safety, and I've argued with these people, and they don't even know what the issues are and
c) It's on Kickstarter…. and it's maxed it's funding – $35000 with 239 people – an average of around $150 each… though I'm guessing there's some fairly big numbers in there so the median will probably be a whole lot lower. This is ostensibly crowd-sourced funding… but 239 people isn't really a crowd. It doesn't take much to do a lot.
I have a feeling that the Biocuriosity people are fairly hyper-connected/active networkers though – 239 is still probably more than I could do. I'd get about 4 – So it ain't money for nothing I don't think. Still… it looks like a working model to me. I've been looking for "ways for people to get paid" for a while now… we still need a way to pay people after the fact – people who make things that are no longer sold as physical goods. Musicians, film-makers writers etc. I still want a way to send Trixie something for this:
But in some meaningful way – not as a random donation… something concrete… like buying her groceries for a week or getting her a set of guitar strings or something. And although it's less important (to me) I'd still like to get something back… whether it be some physical thing through the post or reputation capital maybe. Dunno. Money is still locked-in to the notion of "exchange", and it feels kindof weak just sending it into the ether. Still… there's probably enough stuff in the post at the moment. If she has a million fans then the whole thing could get a bit eco-angry. And what are we buying in the end? Identity?
There's got to be a way through this.
Back to reality, I'd say cottage industries are the way to go… based on this graphic

But there are issues of scalability – but… maybe that's not a problem. Maybe it's ok for a musician to employ neighbours, friends, fans blah blah to act as mail-order-fulfillment nodes. Maybe it doesn't have to mega corporation doing it all – with the inevitable consequence that it becomes a parasitic gate-keeper. Maybe there is a way of networking the distribution of… stuff.
I'm not sure why, but this reminds me of Renaissance Florence (I was there you know) – even the wealthy families – the bankers and merchants and so on, still had little shops built into the gate-house-bits of their houses. Selling basic sundries – everyone had a cottage-industry-retail business going on the side.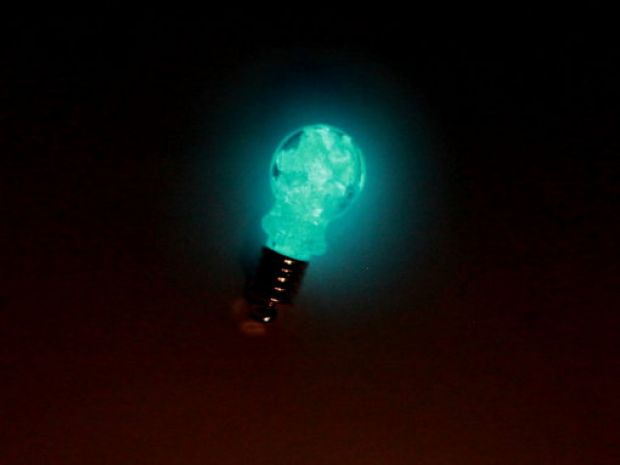 Lightbulb filled with luciferin-producing, genetically engineered bugs.
It seems like years now (well it IS years) since Craig Venter did his TED talk about creating microbes that were going to solve the… everything-problem, and to be fair, earlier this year he did manage to boot up a completely artificial living organism. Still… I can remember Alvin Toffler going on about the genetics revolution back in the 80s – this has got to be the most slowly encroaching revolution ever.
An Are-We-There-Yet tech, if ever I saw one. A bit like flat-screen TVs. They took about 20 years to turn up as well.
More more, faster faster. I am now so addicted to coffee that I feel like having another one before I've even finished the first one… but then I have a fairly addictive personality. And a will of iron, which means I get to give stuff up a lot. Things I have been addicted to so far (now vanquished apart from 3 and 6), in decreasing order of damage:
1) a beautiful blue-eyed girl
2) crack
3) alcohol
4) an alcohol-nicotene cross-addiction
5) computer games
6) caffeine
and somewhere in that list… slotting in somewhere is The Internet – or is that just information? A non-stop flow of information. I am so burned-out I can hardly function. I'm trying to do about 5 freelance jobs at the same time now, as well as personal projects. I can't concentrate on anything for more than about 10 minutes… can't read books any more – anything longer than a paragraph has me thinking "whatever; next". I can't sleep without having a podcast going on in the background. All the things that used to be a normal part of life, I now have to todo-list, schedule, tear myself away from the web to do.
So when I saw this… "Screens of the Future"
In which some poor bastard wakes up and plugs in straight away (with an iPhone that has "centre-fold-mode" (fap fap)) and some poor woman not even being left in peace to brush her teeth without multi-web-tasking… it just made me feel physically tired. Weak.
So I thought I'd tell the internet about it. And then I'll tell twitter than I've told the internet. Twitter will automatically tell facebook and friendfeed… and so into google.
To bear witness etc. Those that can't do, echo.
This is cool… exactly what interests me most about the collision of cognitive-surplus and crowd-sourced design.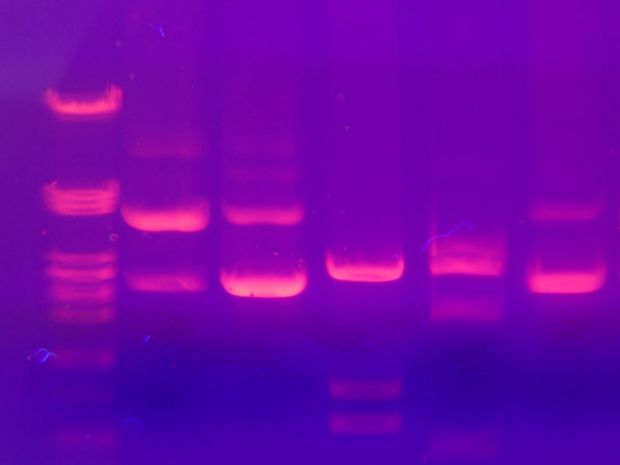 from wikipedia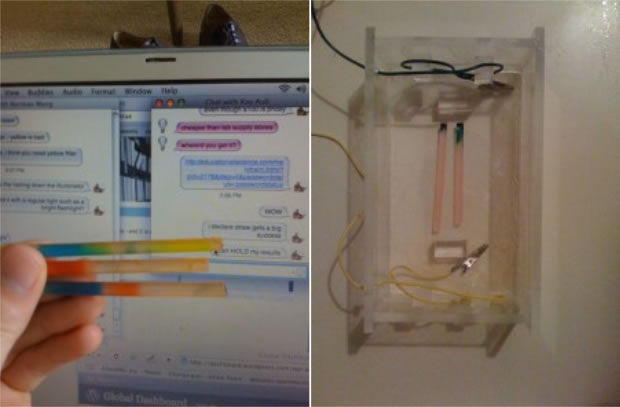 A conversation between Tito Jankowski and Meredith Patterson on the DIYbio list about how to bring the costs of electrophoresis (a way of separating organic molecules) down raised the possibility of using drinking straws to hold the samples/gel and…
… behold, it is done… and it's done with a nine-volt battery.
As research shown in the fourth video over here showed… the majority of product innovation isn't done in Corporate R&D labs, it's done by users… and users suddenly have the time and the resources to basically take control. The same thing that happened to the music industry is going to happen in every single industry across the board.
The first example that uses in the video above is a Gas Chromatograph by the way.
(edit : more here)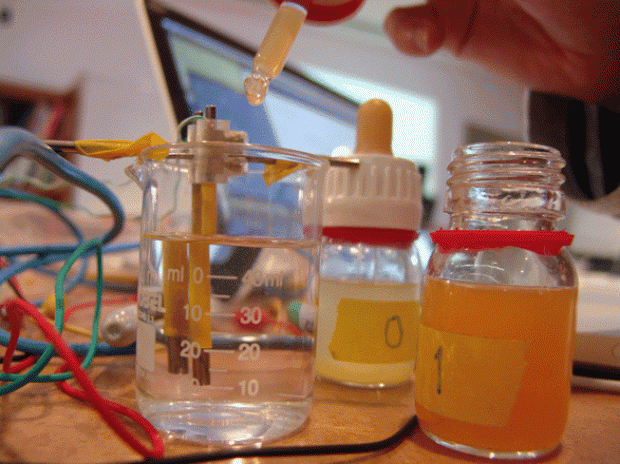 from The Fruit Computer Laboratory
Marvellous. Reminds me partly of this edible Joule Thief: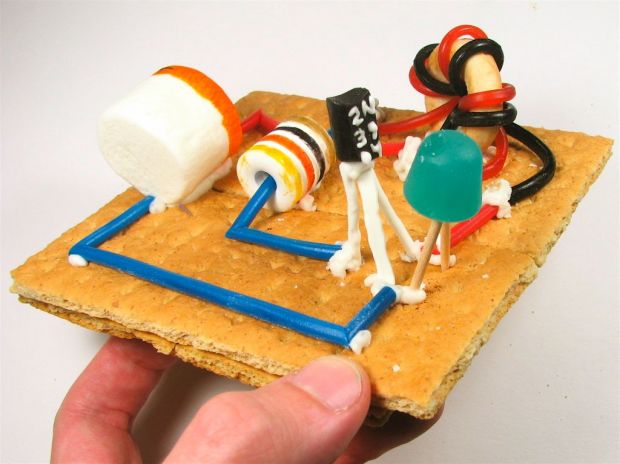 from oskay@flickr
And this thing that turned up recently about programmable food – a bit like the Star-Trek thing… made out of Algae (which is making something of a comeback on account of it being the fastest way of turning sunlight and CO2 into physical bio-stuff)
Ok, that was the bad news, now the reasons why I think DIYbio is probably going to become the biggest driver for just about everything, from here to the singularity.
Imagine all of these videos as one of those overlapping circle charts that people always use in powerpoint presentation. There's an overlapping bit in the middle… and out of this I suspect will emerge, what Craig Venter in the second video describes as a new version of the Cambrian Explosion. The biggest challenge in the next 30 years, may not be climate change, it may be surviving this explosion, but that minor worry belongs (for the moment) elsewhere.
There's a couple of hours worth of videos here, which is about 4 Gilligans, (A Gilligan being a measure of time spent doing something other than watching a sitcom. (from here (kindof)))
Ok. I've mentioned this one elsewhere, but it's an easy-in, as it were. Short, simple and to the point, and I really like the design.

Now a talk by one of the people who sequenced the genome. Everyone claps at the end, and not without reason. This is why we ought to do this.
Then this one… more on possibility etc, but the imperative kicks in at about 17.00. This is why we need to do this.
Then this one on crowd-sourced innovation. This is why it has to be us that does this.
And finally a guy talking about mushrooms. It's not actually about genetic engineering, but I like him and it does show what can be achieved with what we've already got.
So there you go. I'd also add, that seeing what centrally owned energy/pharma/(etc) industries did to the 20th century, it's absolutely vital that this technology is democratised. We need this.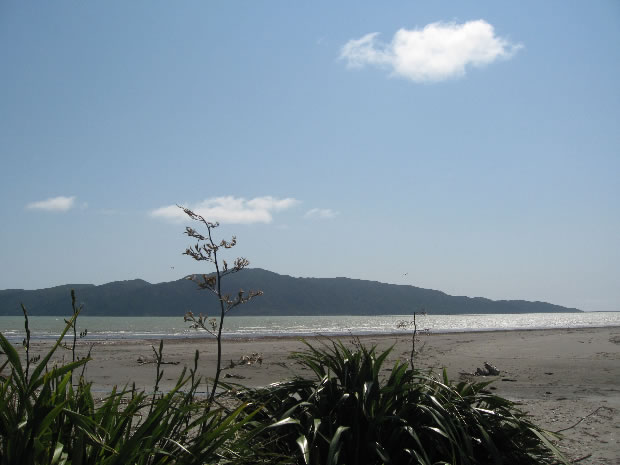 I've recently joined the diyBio mailing list – and have spent the last couple of days feeling like my head is about to explode with all the new information I'm attempting to assimilate.
I think that this is simultaneously the most life-saving and most dangerous technology there is, and it's becoming democratised. A friend of mine in the airforce in the 80s told me that weapons were graded in terms of kill-potential… and the ranking was Biological, Chemical, Nuclear, in that order… and the one that starts with B is becoming democratised.
On the other hand among the promises of biotech are free clean energy and immortality. You think cocaine is a big seller? It's got nothing on energy and immortality… and these technologies, although still fairly embryonic, are coming to a kitchen sink near you. It's incredibly inspiring and incredibly exciting. This is coinciding with what I've called The Crowd-Sourcing of Intelligent Design… which is basically an explosion in human creativity, with the results being fed straight into a universal mind, so everyone has access to the entire genotype of a creation… and the cross-pollination of ideas that results, creates a type of evolution that leaves sexual reproduction in the dust… and that was already mind-bendingly clever.
So.
1) you can't control digital replication / information leakage
2) you can't regulate people working in their kitchens
3) the democratisation of technology is a force of nature
4) the weaponisation of technology is (currently) a force of nature
IMHO.
The cat was always going to get out of the bag at some point. Here is the most likely scenario for the way this will unfold:
1) the public is primed by the media for a negative reaction
2) there is a statistically insignificant disaster
3) regulations are imposed, in fear and without regard for facts
4) freedoms are curtailed
5) the resulting regulation/criminalisation creates a black economy
6) entirely malign power-bases grow out of this economy
7) general publics are attacked by their own governments fighting these power-bases
All of which happens with the active collusion and lobbying of corporations wanting to monopolise these technologies and protect their "IP", and religious organisations wanting to control the procreative process generally. (And this will (of course) lead conspiracy theorists to postulate that 2) was actually a corporate false-flag event, and they may be right)
All of which leads to a new self-perpetuating and self-serving "War on Bioengineering". To be honest, I think you'll need to be very lucky or very smart to avoid this sequence of events. Google "Lakoff" and give yourself a crash-course in deep-framing.
So there you go. First thoughts etc. This subject is too big to tackle in a single blog post, but I'll sign off with the good and the bad and the ugly:
The Good:
The Bad:
See that picture at the top of this post? That's Kapiti Island, which lives here, in New Zealand
Google Street Maps FTW!
It's either very small or very big, depending on what you try to do with it.
It's a nature reserve and when you visit it, you are thoroughly (and I mean thoroughly) searched… bags, clothes etc… for rats.
Kapati used to have rats you see, introduced by humans, and they massacred the native bird population. The predator-elimination program has taken 60 years and the rats were finally eliminated 6 years ago by a team of people working in a long line gradually moving up the island, trapping and killing them. This cost around 1/2 a million dollars.
It's a big island. Zoom in on the google map and imagine what it would take to walk/crawl from one end to the other killing every single rat… not missing a single one. It's not however as big as New Zealand itself, which is a macrocosm of Kapati, and which is far too big to control in this way. We've lost it. Rabbits, rats, ferrets, possums, dear, cats, mice are here, and there's not a lot we can do about it. They have created utter havoc for native species… my dad says he has seen hills with so many rabbits on them that the whole surface looked like it was rippling.
If anyone thinks (and I know some of you already do) that a good way to fight a new species is with another new species… we've already tried that here with ferrets against rabbts – and it was a disaster. Fighting an exponential curve with another exponential curve is like crossing the beams in Ghost-busters. You don't know what will happen, but chances are it will be bad.
The Ugly: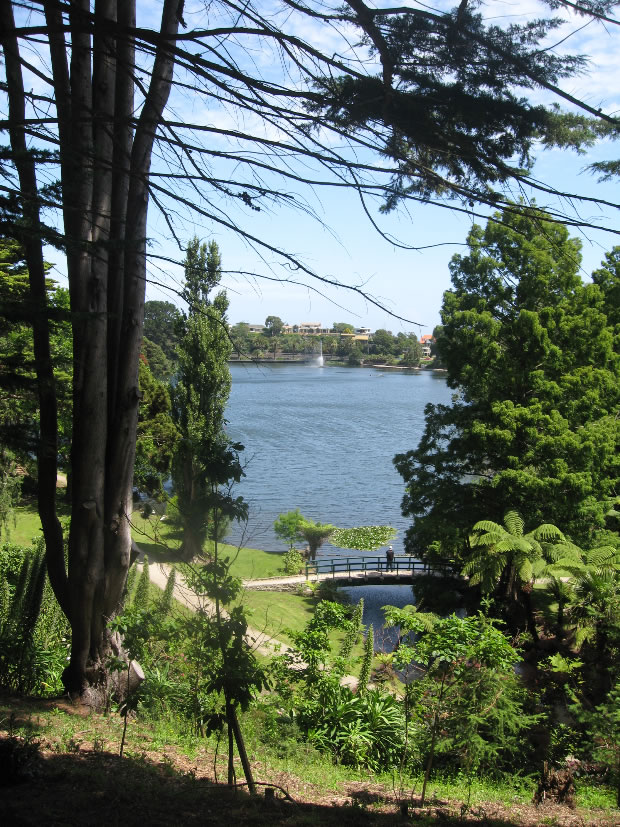 This is Virginia lake in my home town.
Last year there were ducks paddling about, people strolling etc one day; the next there were people with white bio-hazard suits out in boats rescuing the swans. Virginia lake experienced an algal bloom that was so dense that it looked like the ducks were paddling through Pea-Soup, and the whole thing started releasing poisonous gases (eg: Ammonia) in such amounts that the whole area had to be cordoned off. It was a mess, and it absolutely stank… and it all happened incredibly fast.
Humans tend to relate to reality in linear terms. Nature isn't linear. I don't think people quite get that.
Here's what they did (click on it to see it in detail)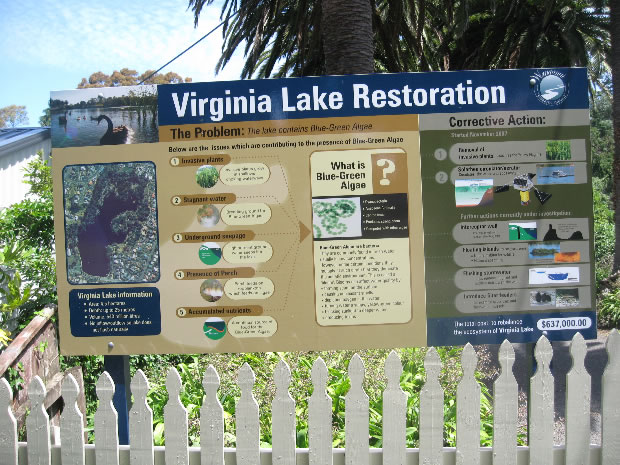 Cost=$637,000. It worked… yesterday the water was clear to a level of about 2 metres, but it's a process of management rather than eradication.
Now the bad and the ugly above are fairly unusual in that they happened in naturally quarantined areas. This will not be the case if someone flushes a load of contaminated agar down the sink in Woking UK. You think that this won't happen? Get a load of this. A noxious weed choking the Mediterranean. I saw a documentary on this a couple of years back where someone made a plot of the spread of the weed, then extrapolated backwards to find the source… and it was directly beneath The Oceanographic Museum in Monaco, where Jacques Cousteau was director.
If it can happen to Jacques Cousteau then it can happen to you.
So the point of all of this, is that it's a hell of a lot easier to create a problem than it is to solve it. The dogs that check every single person coming into New Zealand to make sure they're not carrying fruit or meat, aren't doing it because they're hungry. They're serious.
So there you go. I'm guessing that we are poised on the brink of a fairly large increase in new organisms and variants hitting our ecosystems fairly soon. I don't see a way of stopping or even controlling DIY Bio, and I don't think (at all, on all sorts of levels) we should try – but we do definately need some very smart people to be thinking ahead on this one. We need to become a lot better at biosphere management. Fast.