(from)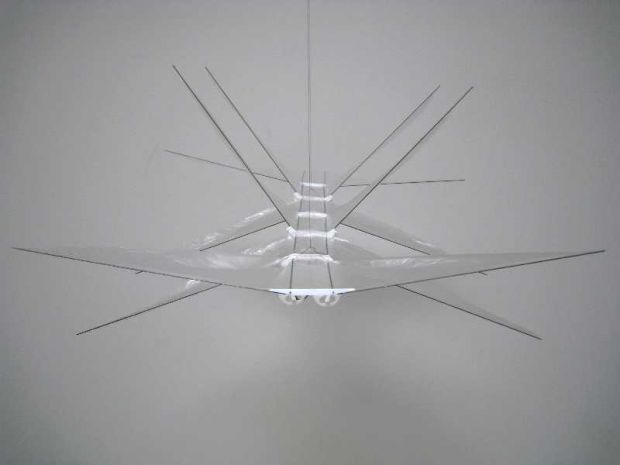 Looks like you might be able to buy the bits… if you can speak Japanese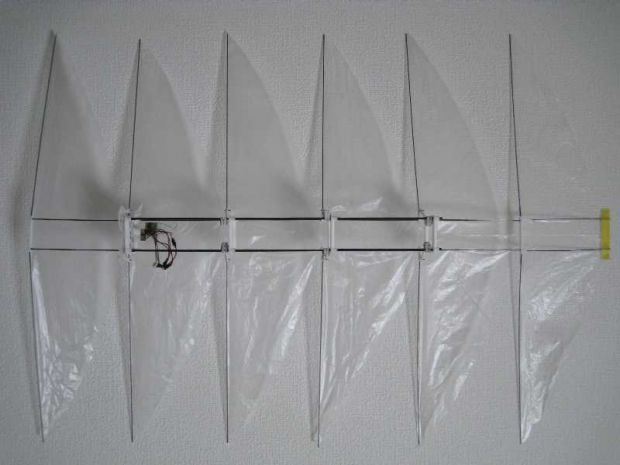 (from)
3D Printed… micro-thing… with still-beating rat heart-cells embedded in it (like an Aztec Sacrifice), to make it go.
The idea is that these could be used for "search and rescue" missions within the human body… which is good news if you're a human maybe, but the most fucked up shit you can imagine if you're a rat. It's Room 101 on some very weird acid indeed.
Impressive though… I just wish they'd find some way of doing this with drosophila rather than rats. Rats are people too.

(via)
Ok – probably won't win any beauty contests… or any type of contest at all in fact, but it is pretty cool in that it's… made out of stuff that's kindof just lying about.
Obviously in the future there will be an entire class of robots/virii… that are basically just software, or software and some motors… that basically just "take over" a machine… or move into it like a hermit crab moves into a shell. It'd have to be some sort of AI of course… but that's not impossible, surely. Bit of trial-and-error, innit.
The idea that intelligence must be locked inside a single body is hopelessly anthropomorphic… this is about as likely to wind up being the rule as the likelihood of software being limited to certain machines. Sure it happens at the level of drivers etc, but there are layers abstracted on top of that that are entirely free to be moved from host to host, and in some instances, move by themselves.
–
I'm must confess to being a bit disappointed by hexapods – I thought they were going to take over the world at one point – mainly because of the hexapod router from about 3 years back
– and there was a minor rash of impressive debuts etc… but since then, they seem to have devolved into… "things that participate in dance competitions".
Sign of the times I guess – that 3 years should be enough to get me all impatient etc. I mean I didn't invent the wheel until I was about 6.
I think it might be an environmental thing though – although hexapods have the same number of legs as insects, they're kindof facimilies, rather than being adaptations to a specific environment… so "the floor" is better suited to wheels… "outdoors, walls, trees" etc while suited to autonomous sets of legs, tends to favour legs that are in configurations where they're not constantly getting tangled up in things.
There was a biomimetic video about the way robot hexapod legs should work a while back – TED I think… Can't find it now, obviously – I think it was this one.
And speaking of which, you can now get kits for turning real live cockroaches into robots (ish)
Which personally, I think is cruel and insane – like remote-control via temporary lobotomy, but what do I know.
You can actually buy the cockroaches themselves via the link above, and there is a limit of two sets per order because they're having trouble keeping up with demand. I do have a grudging kind of awe for what they've managed to do here – but I can't be dealing with being cruel to animals – even if they are deadly enemies. If I saw this happening, the only thing I'd be able to think about would be "Get that thing off it, and let it go"
Because to me, everything in the whole world is basically a little person. Even rocks and stones are little people. They deserve respect etc.
Cockroach Controlled Mobile Robot (2006) – Garnet Hertz – High Resolution Video Overview from Garnet Hertz on Vimeo.
Is that good? I don't know… is it? I think it might be the opposite of good? But who knows? It's 4 years ago. Nothing bad happened did it?
It reminds me of those things off Dune – giant megalomaniacal warbots with human brains – essentially immortal, but not entirely mechanical.
This cockroach thing is basically taking a genius piece of engineering, that we're probably not going to manage in our life-times – aka: a cocroach, and using it to power a clunky naff-bot. It's like using an iPhone as a paperweight… but a much bigger paperweight.
Or maybe that's the wrong way of looking at it – maybe the robot is an extension of the bug's exoskeleton… I have sortof said it before I think… I think this is the way robotics is going to wind up – not with bug controlled machines, but machine controlled bugs. We can easily (for our intents and purposes) replicate the basic functioning of a cockroach's software…. the hardware on the other hand… yer dreaming.
A week or two ago everyone was going on about this
Some former Microsoft person (or a "Clippy" as ex-MS people are popularly known) invented a laserbeam to shoot the wings of mosquitoes.
And then a bit later this also turned up…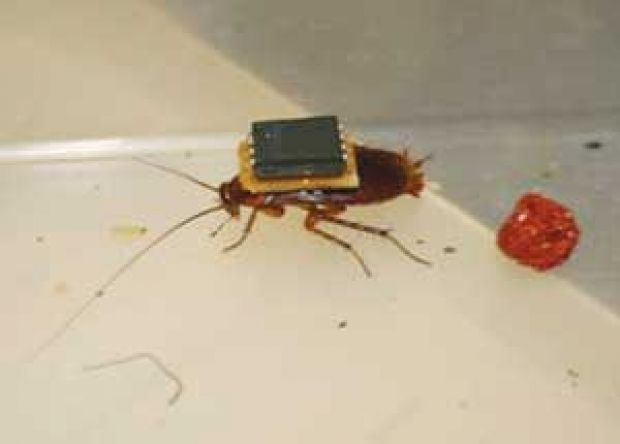 Which is a thing where people have grafted chips onto the backs of cockroaches so they can be remote-controlled and made to look for radiation or do search and rescue or whatever.
Now I've been predicting this for a while – because the engineering that goes into these critters is frankly incredible. It's probably easier to hijack their brains than it is to build them from scratch, not that that would be easy either… but… you get the picture.
But um… is it me, or is this some fucked up shit?
I mean maybe that mosquito didn't want its wings burned off. I wouldn't mind so much if it was killed outright, but burning its wings off? That's cruel… and like, what have mosquitoes or roaches ever done you man? Apart from spread disease that kills millions of people… but we shouldn't be killing mosquitoes get rid of malaria, we should be curing them. So they don't carry it any more.
No. Enough. Enough of this carnage. If aliens came down and did this sort of thing to us we'd have a conniption. It would be worse than 9/11. I say let our tiny 6-legged brethren be. Unless they attack us, then fuckem. All bets are off.
Though personally, I would've used an iPhone etc… because that way it can track you with your GPS and chase you in your sleep.

(from)
Holy crap.
… giant machines-each weighing in at 15 tons. Each can turn at 45mph (72kph). The arms reach out up to sixteen meters… AND THEY'RE AUSTRALIANS !!!
And really, who could resist coupling that with the other thing I stumbled across today…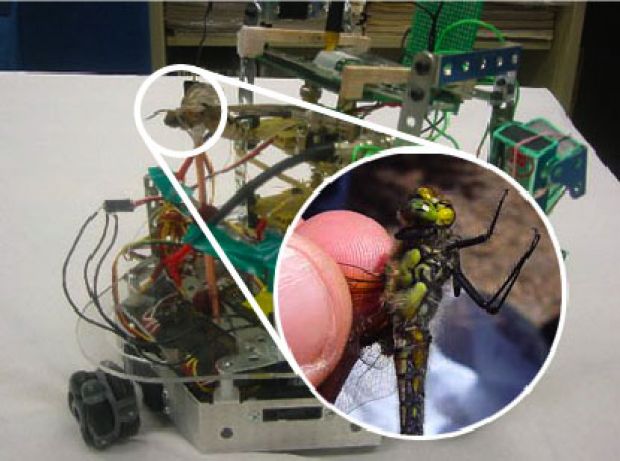 Insect controlled robots… although in this case, they're tapping into the spinal columns of dragonflies to hijack their highly developed senses… and a new term is born "Hybrots"… machines with a bio component. Bios with a machine component.
I think this is the way it's going to develop to be honest. Their is simply too much genius design in nature not to ruthlessly plagiarise it.
Apparently (I read somewhere) the thing that limits insect size is respiration – in the oxegenic sense… they don't have lungs, so they can only grow so big. Until we get to the stage where instead of controlling a massive yellow monster with a wii, we do it with a praying mantis. You think I'm kidding? It's one of those amazingly bad ideas (like a chainsaw bayonet, or handguns on rc helicopters or bacon flavoured icecream) that people simply won't be able to resist doing. It'll happen, trust me. We'll fight them like gladiators, and then they'll escape.
I can't decide whether this is a mighty leap for mankind, or if it sends the needle off the edge of the insaneometer… but apparently, someone somewhere has genetically-engineered a virus to send electrical signals when exposed to light, then used these to infect a live mouse brain so when a light is shone (via implanted fibre-optic) directly onto its brain cells, it runs round in circles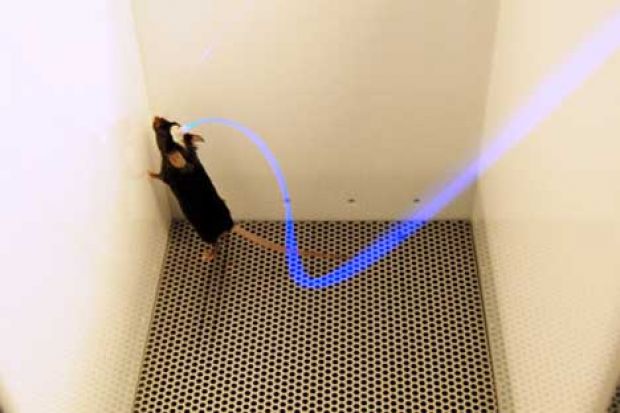 (from medgadget and technovelgy)
Still… relates to a previous post about the possibility of robotics becoming another branch of biotech.
Here's some insane person's fantasy about using robotic bugs to spy on and kill people. The voice-over is flirting with that whole hollywood macho tone – an indication that they're living in movie-land rather than the real world. Just like Ronald Reagan – who had an alarming habit of telling anecdotes about his life which were actually from movies, and they named a battleship after him. I'm talking about The US Air Force.
Some other people, equally demented have seen Terminator and instead of trying to kill off the inventor of Skynet before he managed to do any damage, they've set up a thing where AI systems can compete with each other to see who's best at killing off the human race.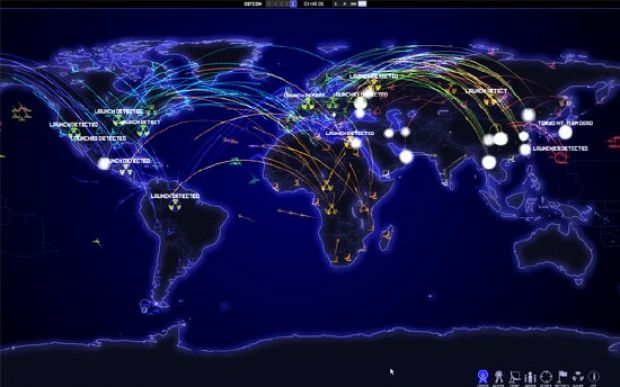 So anyway, robotic insects. Marvelous. I followed all the links from the BotJunkie post above, and spent a morning perusing for others etc…
It flies, it crawls, it gives me the creeps. It's got that whole scrabbly bat-bug vibe going on.
(from)
Then there's this one: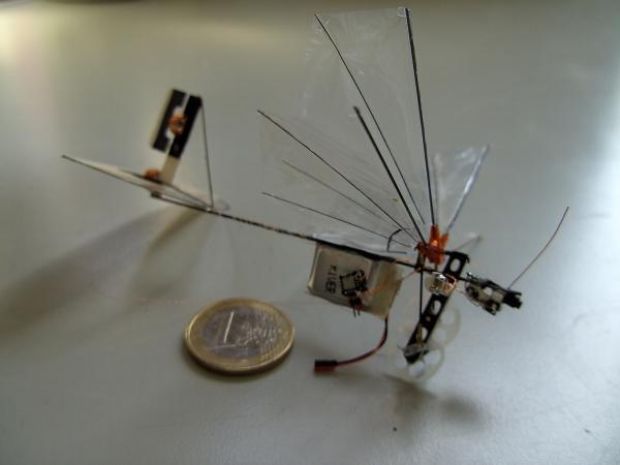 The The DelFly Micro, (from), with photo/vid of it's older sibling here.
Another, prettier one here…
So what do these all have in common.
1) they're all little flying robots that look a bit like bugs
2) they all employ first-personism
3) they're all evil. Either for spying or killing people – apart from the last one maybe. Or any of the other ones.
4) they're all a bit rubbish.
I mean no offence etc, they're a lot better than I could do – I can barely tie my shoelaces, but if you compare them to an actual insect… they're crap. Take a proper hornet for example. It can :
fly : really accurately. Straight through holes the same size that it is without hesitation.
walk : like the clappers, up walls, upside down on the ceiling, all limbs individually sensored and controlled.
see / smell / feel / hear / taste? and god knows what else
fight.
cope with being waterlogged.
3D print using locally sourced materials (their nests are 3d printed)
self-fuel using locally sourced materials.
reproduce itself from locally sourced materials, with sexual selection and variation so evolution happens.
work/live/fight/build communally.
Now that, my friends is quite a feat of engineering. Think of the best flying machine we have today… a stealth bomber? It doesn't come close to what a simple wasp can achieve.
So I'm guessing that we're going to learn to make "brains" that learn how to use alien systems faster than we're going to learn how to build robots that actually manage to do what mad-scientists want them to. I'm guessing that the biotech revolution is going to merge with and eclipse all the others – robotics, nanotech etc… they're not going to be like they are in sci-fi movies because it's easier (and a lot more potent) to program/adapt existing creatures than it is to make them from scratch.
It's a question of interface… and there have been movements in that direction of late. Rat brains controlling robots, synthetic cells making electronics, protein making cell machinery etc etc. There was a talk on TED a couple of years ago where someone had programmed a machine to "learn how to walk"…
…to be honest, I can't see any other approach working as system complexity increases. Genetic Algorithms etc.
Make a hardware problem a software problem. That's my advice. Machines that learn. Then we're really in trouble.