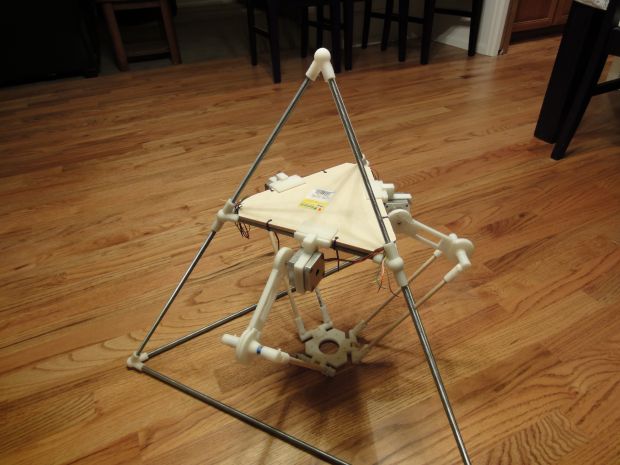 Coowull… a 3D-printed triangular robot thing – A Yazzo Polybot Cranberry edition.
Automatically makes you think of repraps – and has an automatic advantage in that it appears to be using modular lego-like connector things, and like, no bolts. The modular connector things offer scope for making other things, though trapped in a 3-sided pyramid configuration.
Trouble is though, I doubt you can get the precision needed to make this thing print it's own parts. Those flying penguin people did a while back…
but Festo have got a gazillion euros to throw at it, and the machine is made out of precision bits of metal, and not printed plastic.
So anyway, someone somewhere else said that the various revolutions that we've had have been driven by different techs coming online… eg:
computers : cheap integrated circuits
communications : cheap lasers
and robotics (in the pipeline) : cheap sensors.
So my guess as an uneducated bystander would be that the reason repraps are trapped in their current form is that they're flying-blind. They're printing out entire objects from memory, with their eyes closed, rather than from memory… with the position of the printing head based on "seeing" where it's at, and recalibrating 1000 times a second. If a (lego) segway… (and that is a sensor-driven craft) can stand on its hind-wheels, then a similar sort of tech can be used to fine-tune the position of a printing head.
So to my mind, something holding repraps back, is that they're not taking advantage of the primary thing that will drive the robotics revolution. Yet.
Still… that's one hell of a vitamin part… but that's the nature of the beast I'm afraid – making hardware problems, software problems. Because software is fast. I mean that's part of the reason humans are what they are. Our brain expansion makes everything a software problem. Sure we use tools – but… spearing your dinner is a software problem. Tools are a reflection of software getting to a certain level.
So, my guess would be that when repraps stop relying on very-precise engineering to position their printing-heads, and rely instead on… sensors measuring their locations, then we'll see a kind of Cambrian explosion of forms… and it's not an entirely ridiculous notion, that the source (drivers, code etc) of these sensors turns out to be cellphones. I mean how many mega pixels do you need to tell that you've shifted .01 of a mm?
The brains of future repraps aren't going to be arduinos, they're going to be cellphones. Too many birds are killed with that one stone for them not to be… like the need for an external computer to program the thing for example.