I kindof dropped out for about 15 years… and when I dropped back in again, the internet was just starting to filter in. I worked for Auckland University in NZ who used to download and cache locally, the entire web. We had Mosaic as a browser – I don't think it could show pictures. Pictures sent via user-groups were long strings of ascii that you had to edit together, save as .bmp and open locally.
We used to use thin-client machines linked to a mainframe for doing exam results.
My Boss (Dylan) (a star and a drinking buddy) said that "Yea, thin client seems to come and go – there's a never-ending vacillation…"
And so it is. It's never gone away, it's never dominated.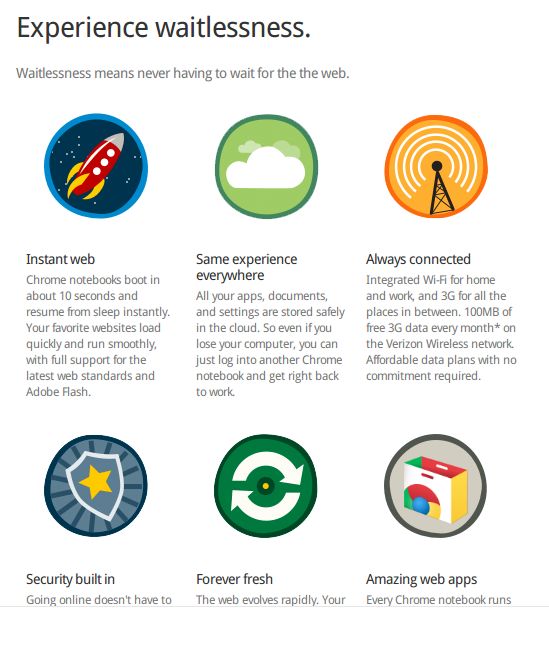 So now google appears to be getting into hardware – making browsers specifically set up to handle it's javascript-heavy code apparently not enough. And I don't have any particular problem with that to be honest. If they can be the anti-apple, then more power to them.
Couple of problems though…
… Amazon has just demonstrated that we can't trust the cloud. Gawker and McDonalds have just demonstrated that we can't trust the cloud. Paypal, Visa and Mastercard have just demonstrated that we can't trust the cloud. (did you know that the Gawker hackers put all of Gawker's source code up on Bittorrent? LOL. That'll fuck them up. At least when you use WordPress that isn't an issue)
Anyway, the point of having things locally is that they're private, and we control them.
There's an article here about the need for an open-cloud, and various open-DNS projects are underway. Open Bittorrent (funded by the EU) is drawing closer – for windows users, it's here… for linux… imminent. I'm currently playing with Bitcoin.org – which is a P2P currency… about a year old with about a $million dollars in circulation.
So. The Cloud. "The Cloud" is a crafty bit of reframing. What it really is is "Thin Client". It's back to the mainframe model.
We used to use it at Ernst & Young to deliver Microsoft Office in a totally controlled way. Everyone used to run a server version. Then laptops turned up, laying that model on its side. The point is… the point was… centralised control. That's what thin-client is for, that's what the cloud has always been for. It pretends not to be, but it is.
It may not seem that way to you – but it's true. Douglas Rushkoff's new book… Program or be Programmed… is particularly relevant.
Doug Rushkoff: 2008 Applied Brilliance Conference.mov from Applied Brilliance on Vimeo.
I listen to everything this guy says about 5 times. It takes a while to sink in… but I think what he's trying to do with this latest thing is create a (typically gen-x paranoia) sensitivity to how we're manipulated by the people who create the systems we use. The cloud is set up to make us feel like it's a wonderful ever expanding resource where you can get anything you want, just by paying a bit extra. Actually it's not. It's a way of extracting micro-payments from you, while allowing your information to be controlled by someone else. And if you piss off the corrupt and criminal American Govt, they'll have you silenced.
If you look at the Google offering above – the biases come singing out… once you become sensitised to spotting biases. They want you to be online all the time, permanently hooked into services they provide. They will "protect you" and have granted themselves access to update your machine without informing you. There will be an option to switch this off, but it will be on by default… it represents a society-wide possibility of the school-admins-spying-on-kids-at-home-via-their-webcams situation. Think they won't?
This machine isn't by users for users. It's by a corporation with a certain set of philosophies… and it is specifically designed to draw you in those directions. It's a shiny, friendly, trustworthy face, stuck on the front of a machine… and it may just be the most benign machine out there, but it's still a machine. It's not us.
The cloud needs to be P2P. How to do that, I've no idea. It definitely should not be controlled by corporations though.
—
Because The Cloud is a providing a necessity, masquerading as a service. "Services" should be separated from "Necessities". Services are things like hair-dressing and pizza-delivery. Necessities are things like food, water, energy, waste-management, security/police… and information. The providers of these should at the very least, be democratically accountable. Ideally they should be P2P or individually controlled. The worst nightmares in the world happen because necessities become controlled by greedy sociopaths – and corporations are inherently greedy, and inherently sociopathic.
—
So the dichotomy "Thin Client vs Localised Power" has become a trichotomy "Thin Client vs Localised Power vs P2P".
And Thin Client is evil. If there's a choice, always go local and P2P.