Yea, so ok… Google have just launched their new Android phone, and everyone's got an opinion.
Everyone except me. I don't even have a cellphone. What do I know? (I'm not a late adopter… I had a cellphone back in the 80s. This is my mate Adi talking on it back in about 1990. See? That's real. That's reality the way it used to be)
Actually I have two cellphones – one for international, one for NZ… but I never use either of them. I don't even charge them up. I hardly ever use a landline either. So what do I know? Here's an advert:
And another thing about Google talk. Which looks quite useful:
If you use phones, but I don't, so I probably wouldn't find it that useful. It looks useful though.
vague thoughts:
Thought #1:
There seems to be a lot of talk about "Android" vs "iPhone" – which is a fair enough. I make that comparison myself… but as someone pointed out over here, that is not the real picture. This is the real picture: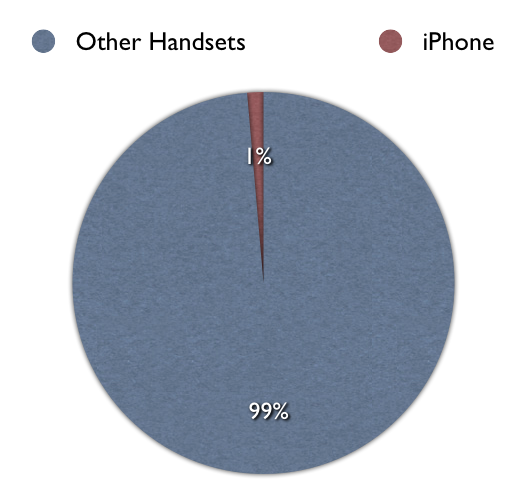 Android isn't competing with iPhone's 1%, it's competing with everyone else's 99%.
Thought #2:
LOL. Have you seen this? It's a thing about how Android will fit into "The Enterprise Environment"…
… and is basically an accidental treatise not on how Android won't (or will) fit with Enterprise Culture, but on how Enterprise Culture won't fit in with the 21st Century. Private Tyrannies that have crystalised out of an economic system that is failing… and the knots of legalese are becoming more and more constricting. It's like they're trying to maintain this vice-like grip over their inner-environments… not realising that increasingly, unstoppably… there is no difference between the inner and the outer environment any more. Borders are becoming ever more porous, irrelevant, and counter-productive.
Thought #3:
Ok – back to iPhone vs Android again, even though I said it was irrelevant in Thought #1.
Open vs closed… iPhone is closed, Android is open… and here is the fundamental reason why iPhone is destined to become "The Apple of iPhones": It's to do with killer apps.
There's really only one killer app… when you get down to it, all killer apps (apart from fire and spears) are variations of The One Killer App. And that is…
… "Whatever Allows The Fastest Memetic Propagation".
That's it. That's what it's all about – every major Web 2.0 site has this at it's core, the rise of the CD, the rise of PHP, the English Bible… all of it all comes back to this simple advantage. This can be rephrased as "Whatever is best at getting around obstacles". And in the wonderful world of the 21st Century, the main obstacles we face are legal… to do with IP laws from the last century.
Android phones have a major advantage over iPhones in that Google doesn't attempt to take control (and therefore responsibility) for the root… so people aren't choked by IP law.
Breaking the law is a major killer-app – because the law is wrong. This ACTA bullshit that's coming down the tubes… and all these pathetic 3-strikes manoeuvres are in essence, an attempt to turn the entire world into a set of private tyrannies. The same machinery (funnily enough) needed for a state tyranny.
Thought #4:
So get an Android-powered phone. Vote Open-Source, every single time.