I think enough time has gone by now to say that the Iranian Twitter revolution didn't really work… and that's working on the pretty hefty assumption that it had anything terribly much to do with twitter in the first place… rather than being a couple of days of excitable memospherics from Western commentators with no skin in the game… and a handful of people within Iran using it as a way of getting news out? Maybe?
Still… never mind… we tried to take on a state and we lost. I think it's fair enough to say that.
We don't lose them all though – today a legal firm representing polluting oil-traders tried to impose a ban on reporting on parliamentary proceedings… attempting to roll back over 300 years of constitutional law.
And I'd like to make a quick aside… How dare they? I mean seriously… how fucking dare they?
My patience and tolerance for the corporate interference with democracy is really starting to wear thin – and I'm gradually coming around to the 18th Century French POV – which is… we kill them.
Still, maybe no need… the Internet responded, as it's wont to do over matters of censorship, and in less than a day this issue became the meme-du-jour on Twitter et al, and sensing a fuck-up-that-has-already-happened, they law firm in question backed down. You can see the scale of the fuckup from this word-map from the really rather cool Trendsmap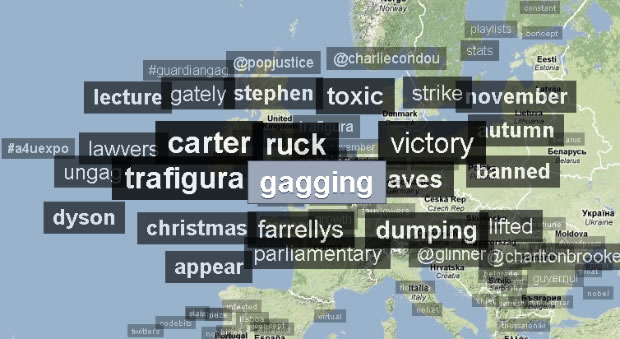 Yesterday all parties concerned were safely anonymous. Today they're famous… for trying to fuck over democracy in attempt to remain anonymous. Nice shooting Tex.
I think this one (like the New Zealand black Square thing) can be chalked up as a genuine twitter victory. The Blue Spaghetti Monster flexing its muscly tentacles… because if there's one thing The Universal Mind really hates, and is really good at fighting, that's censorship. The Information Must Flow.