This is the most interesting thing that's turned up recently: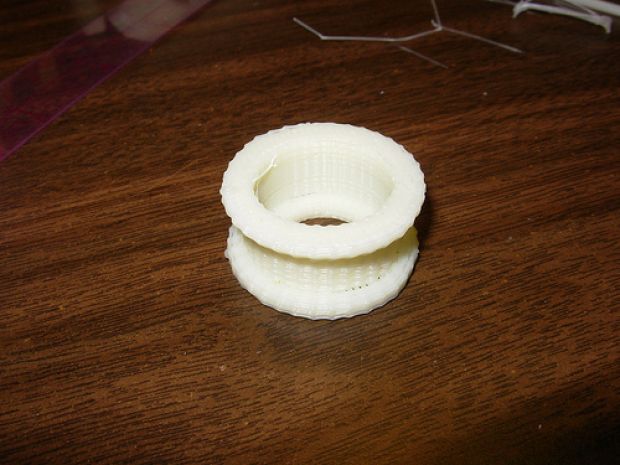 Nice innit. It's a small plastic thing. You can never have enough of those.
What it is, is… the peeps who make the little Makerbot things… little laser-cut 3D printers with a bit of the reprap tendency built into them, found themselves a bit hassled for time and are offering to pay people to make parts… with their own makerbots. They're paying a $1 a go.
Now… I'm not sure if anyone's done the numbers on this (they must have done, but what are they? what are they?)… on how much of a bite materials/electricity/postage makes out of the profits… or how many can be made an hour etc etc…
… but, in the Web 2.0 world, there's a list of tickboxes for "signs that your startup will be successful", and top of the list is "it helps people make money".
This raises a potentially interesting scenario (if the numbers do work out) of people buying Makerbots JUST to make the parts for other Makerbots. You'd have this potentially rapid proliferation of a technology that serves no other purpose than to self-proliferate… because (god-dang it) I still haven't seen anything that a reprap's produced that would stand up against an injection-molded rival, that would cost a fraction of the price.
A reprap bubble in other words.
Now… what really needs to happen is for this to somehow be driven not by $$$ but as currency that looks a little bit like this:
ie: a currency based on abundance-of-production, rather than being lent into existence (at interest) as a scarce resource… that we then fight over etc.
Despite what Gordon Gecko says, This is NOT a zero-sum game. We've been cheated.
—
Anyway, I'm really interested in the idea of The Reprap model escaping from the confines of a single piece of technology, and getting into a much wider sphere… but I wasn't expecting this. This is… Motive.