Towards the perfect teapot: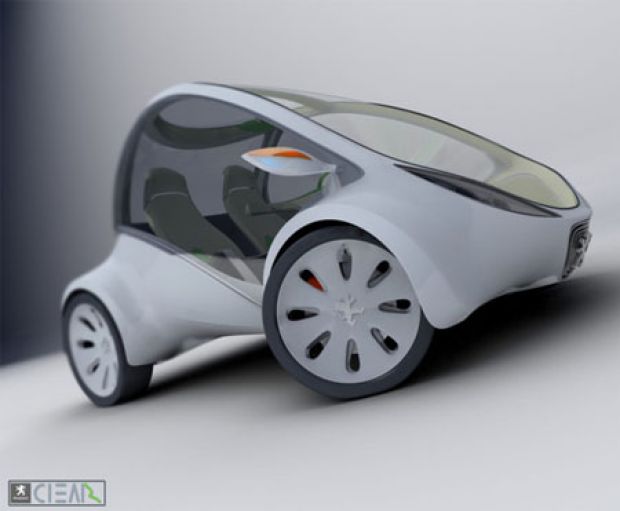 (from)
Ohhh!!!.. Gorgeous Darling, and it will never ever be made alas.
Unless someone other than Peaugot decides to nick the design. Our traditional car industry simply doesn't have the imagination. It's become too big to do anything interesting.
What I find interesting about this isn't the design so much, pretty though it is, rather the complete bollocks that's written about it, and repeated across the web. eg: "Small in size just enough for one the Peugeot clear is a classy model that creates a divine beauty and permeates an aroma of excellent design in its features. Suitable for incredible speed it has an electric motor that heightens the electrical systems to work fluidly and almost effortlessly. The hydrogen and oxygen cylinders are well placed to improve the engine function on a car that uses little fuel. Heat in the sleek car is a thing of the past with the tunnel cooling radiators owned by the concerted elements of fuel. Peugeot clear is the newest sensation of affordable individual designed car."
Really? Cool.
I mean fair play to you if English isn't your first language etc – but right at the beginning it says "Small in size just enough for one", even though the picture has two seats… and this one-seater idea is repeated in innumerable blogs across the web. Don't they look at the pictures? It's weird. It's like this massive beautifully designed spam-bot. Is there actually a Turing-Capable human behind this propagation?
Anyway… that wasn't supposed to be the point. What was, is the way that our traditional hierarchically organised institutions are more and more often being simply routed around by individuals – for a fraction of the cost, in a fraction of the time. There have been a bunch of these in car-ville recently. Here's an example from VW: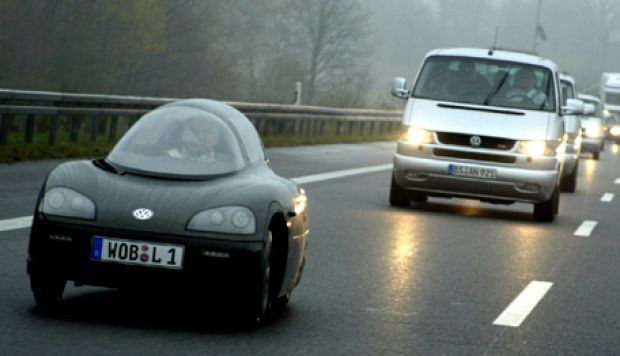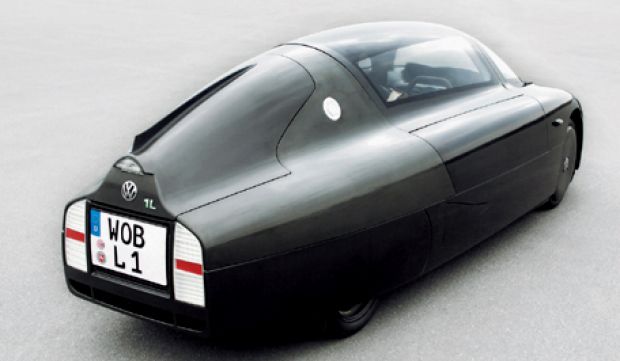 (from)
Looks like a cross between a teapot and a coffin, possibly apt given then wittily personalised numberplate "Wobli" and the fact that driving one of these as pictured (in the rain, on some sort of motorway) would be utterly terrifying.
No more terrifying than this though, which is a foam version (it floats) which some people have made themselves. It is half as efficient to drive, but I'm guessing, far more efficient to make.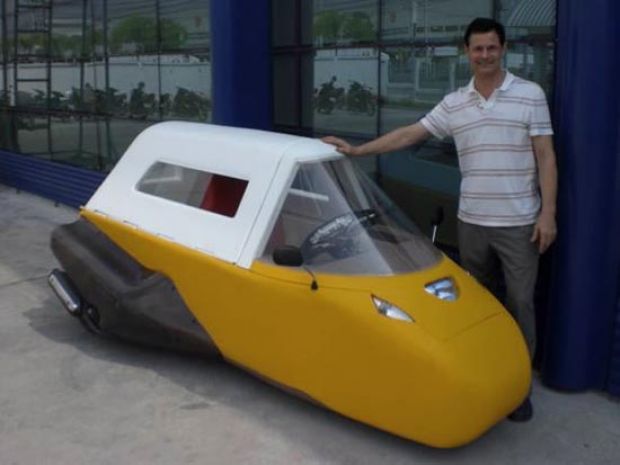 And they won't have to wait (breathless with excitement) for VW who say "a limited production car could be offered by 2010". Could=Won't. Might=Won't. For every headline that ends with a question mark, the answer is "no"…. no. They won't have to wait, because they can just make one themselves.
—
I'm not entirely convinced by this one-seater idea. The side-by-side two seater (at least) thing has possibly evolved for a reason… and there have been a lot (a LOT) of attempts at teapot-cars over the years. There's a massive (and quite wonderful) site full of them here.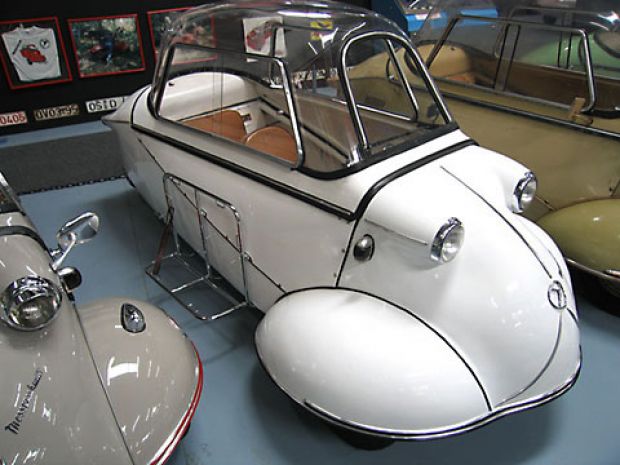 And some of these are truly great etc… but they didn't really catch on… the idea has never gone away though. There's this latest one for example:
where someone's retrofitted a Postman Pat's van so it goes.
What I find interesting though it people doing it for themselves… "going round the side" of institutional obstacles and building their own. I'm not sure how this will play out legally… and I hope that big corporations become so weakened that it doesn't matter… but this for example, where someone's made a $65,000 car for $8000 – when he's only seen photographs of it. Is that even legal?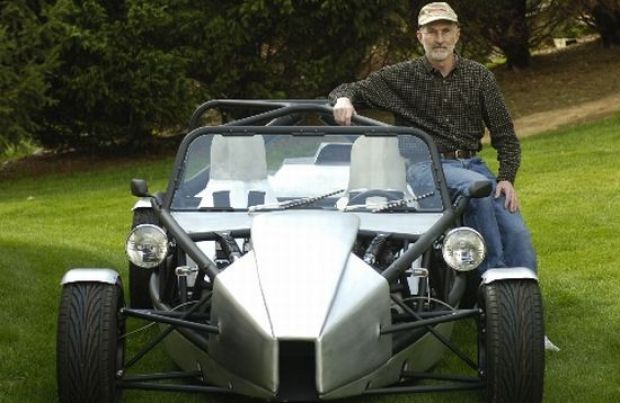 Because if decentralised rapid-fabbing gets underway in a big way, we're going to see this sort of thing a lot. Someone once described a Reprap as "China on your desktop". I'm sure that wholesale brand-nicking wasn't what he had in mind, but it's hard to imagine that it won't happen.