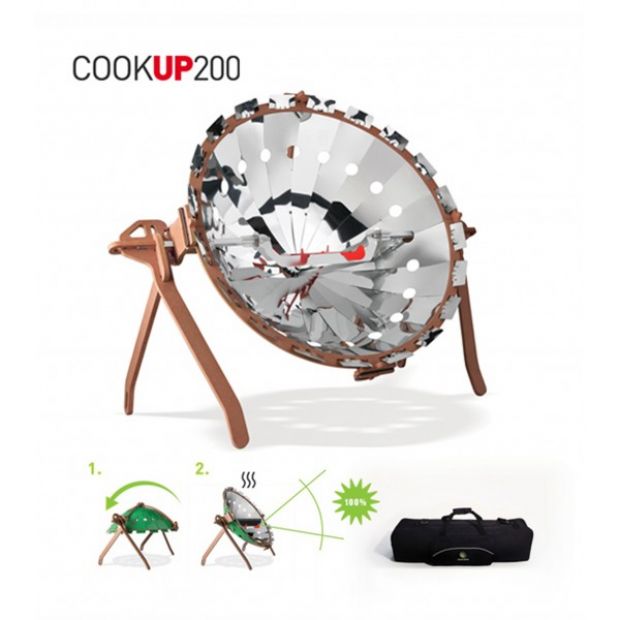 For the absolutely mental price of 500 eu.
They have other cookers for about 1/2 this price… and about 1/2 of that price seems to come from the shiney bits.
I'm coming to find that there's this price-level (particularly for camera gear) – where although the price seems like an outrage – that is about how much it takes to make your own. I bet the cost of water-jet cutting (If that's how they do it) 20 shiney triangles with interlocking bits isn't a hell of a lot less than the price being charged here.
It's not just "the cost of not doing business in China", it's the cost of not mass-producing… and maybe the cost of no competition. Or maybe it's what the market will stand.
Dunno – I went to the trouble of working on my process/materials/sources etc with my golden mean calipers – and was able to drop the price by 20% – and it made no difference to the level of sales whatsoever.
So this thing… that looks like it's been rapid-fabbed will probably cost to make in your own rapid-fabbery what it costs to buy from someone who's done all the trialling and erroring, and made thousands of them.
Or to put it another way – I think that the "threat" that some people think rapid-fabbing poses to "products" probably isn't that much of a threat – or at least is only a threat where we're being ripped off (eg: paying a premium for a "brand"). Or to put it another way, a side-effect of wide-spread proliferation of rapid-fabbing will be to "rationalise" product costs – but it will in no way put manufacturers out of business. Or to put it another way, the threat to manufacturers of physical products isn't piracy, but mass-production.
And IP law of course.
—
Did you know that although pharma companies claim they need to lock everything up with IP law (which costs lives)…
… 80% of R&D into pharma is publicly funded and…
… of the 20% corporations do spend, 50% of that goes on trying to circumvent IP of other companies.