Well I was going to go on about neopaleofuturism, inspired by these "inventions" from Apple Labs (I think) of electric cars. iCars. iMo. eMo.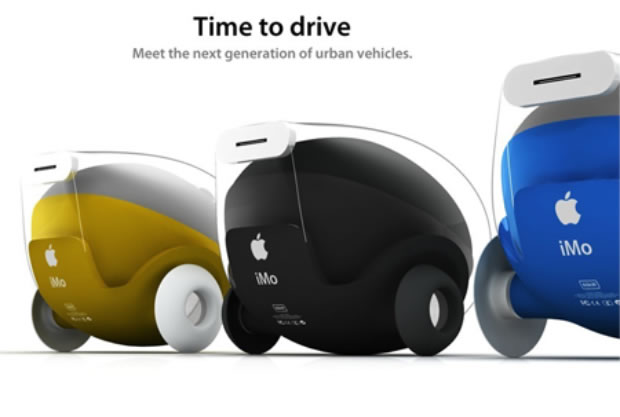 What is it with electric car designers that they always want to make them look like teapots? I don't want to drive around in a teapot, I want to drive around in shark. I want an Angel Interceptor. I want vectors. Velocity. Velociraptors. With laserbeams and massive teeth that go "ARRRGHH" and eat fucking iMos for breakfast. That's what I want.
So anyway, I was watching this video, and then thought "fuck me, what's that"?
Top tune, so I googled the lyrics (you know, the ones the copyright cartels wanted to ban) and found the track… looked it up on youtube and found this:
Which I think is fucking excellent. Every so often something comes up and I think "everything has changed" and I have to sit back and assimilate the groundswell of transformed paradigms that come flooding in. The first time I felt this was when REM first turned up with So Central Rain. The Acid in the Park festival at Finsbury Park. The Orb. Kramer's lot in New York. Teenager from Aus. Dunno. It doesn't happen that often, and it's highly subjective. It's possibly a generational thing… something like: "the criteria by which everything prior to this was judged, no longer apply. We don't even have to make sense. All we have to do is exist"
So MGMT – I think this lot are excellent – and the one in the video that looks a bit like a hobbit is even better looking than the chick from Hanson. They're like gay hobbits on acid who don't realise that The Mighty Boosh was supposed to be a comedy (and TBF, I can hardly blame them for that). Brilliant.
This is a completely gratuitous picture of Bat from Bat for Lashes (who I love) and who I went on about over here when I was someone else, although my old personality seems to be leaking into my new one which is a bit of a worry
Whatever. I think MGMT "get it". Kindof. As far as I can gather they've made some sort of application where their fans can mix their own videos and put them up on youtube. Because people were going to anyway… in fact in the "making of this video" video, that's also on youtube, there's a bit where they ask a couple of people who made a fan-vid of the last video to help with the next one. They recognise that one of their most valuable resources is the people who love them so much that they are willing to copy and re-interpret their work.
So there are hundreds of variations of this one track on youtube. As well as this, there are dozens of remixes and quite a few fan-vids made without using their application. They get it I think… they get that (in the words of Seth Godin), marketing isn't about selling to people who don't know you, it's about giving the people who already like you the tools they need to sell you to their friends…. and this is what they've done. They've created a little memosphere for echo-chambering their stuff. It works.
MGMT would be fucking insane to try to stop people uploading variations of their tracks. This is how people show that they like you. This IS the highest form of flattery, and it in the internet age, it IS the main conduit for creating brand-awareness.
Sure you can't make money out of something that's infinitely copyable by anyone at zero cost… so a magic series of ones and zeros isn't (and can't be) (and shouldn't be) a licence to sit back and make money forever… but that level of fame has got to be worth something. Fuck it – go back to selling vinyl to people who want to be cool. There must be something.
Mind you… they may get it, but their lawyers/record company, are still persisting in the dismally retarded practice of blocking embeddable videos (what happened to providing your uber-fans with the tools they need to sell you?)… so as a massive fuck-you to them, here are 3 versions of the same video uploaded to other sites.
Don't you get it? When people embed a video on their site/blog, they're doing you a favour. In the old days you paid (and probably still pay) radio stations to play your tracks. Illegally. Now when each of your fans has become a little radio station in their own right, you try to use the law (or get new ones written) to stop them.
The memosphere will route around you. For fuck's sake, stop trying to fight the best thing that's ever going to happen to you.