This is cool
From Zambikes via Afrigadget,
In fact, I think it's more than cool… I think it's the future, of a kind.
If web-designers designed cars…
…and we do know a bit about design do we web-designers. We live in a vicariously-Darwinian, fast-breeder hot-house. Evolution is really sped up in the crucible of the market. We share. We recombine. We move on.
Video-recorder controls aren't designed by web-designers; iPhone interfaces are – and it's not to say that the real genius of design isn't happening somewhere else, or that we're not still cocking it up a lot but… there are sets of principles that we design to, like:
1) separate style from content/function
2) manual-free simplicity
3) de-couple systems so different parts can be swapped in an out easily
4) design for resilience, flexibility, robustness, speed, scalability, under-the-hood clarity
5) platforms rather than control-systems
etc etc.
Traditional product design doesn't do these – in fact it often does the opposite, and profits from doing the opposite – creating fake scarcities, and micro-monopolies. There is (for example) a special part of hell where designers of laptops are strangled forever with the non-standardised power cables. Every 5 years (or whatever it is) the average Westerner spends about a year's worth of wages buying a ton of steel and glass, that is used to carry around a single person… who doesn't (in spite of their best efforts to the contrary) weigh a ton.
But that's shite, it's dying and it deserves to. The symbol (and often reality) of 20th century freedom and independence has turned into a millstone, and it belongs in a museum (and in a genre of K-for-cool movies like Two Lane Blacktop and Vanishing Point) That spirit is gone. A car is now a series of monthly payments.
So anyway, if web-designers designed cars, the chassis, engine, body, control-systems, electronics etc etc would all be discrete and swappable sub-systems. You could reskin your car, rather than having to buy a new one every 5 years… only you probably WOULD buy a new one every 5 years anyway, because as I say, we operate in a fast-breeder evolutionary hot-house. We don't do what the car-industry does – which is produce basically the same car, but with minor (diminishing-return-on-R&D) enhancements… since the 70s.
I mean take a look at this: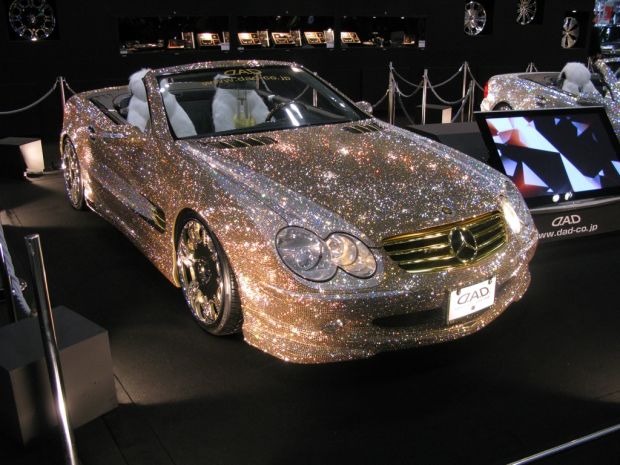 Now that, My Learned Colleagues, is a poster-child for an industry that has run out of ideas. The preposterousness of monument-building always peaks just before the fall of an empire. I think it's over. I think they're finished.
The Zambikes and Zambulances on the other hand, are just beginning – and I think they're the mammals that will survive where the dinosaurs can't… and I think this because they're the beginnings of a design that is modular, decoupled… the Early Vehicular HTML under the hood etc etc. When open-source cars start kicking in big-time (and they will) this is how they will start. They won't come from the big car manufacturers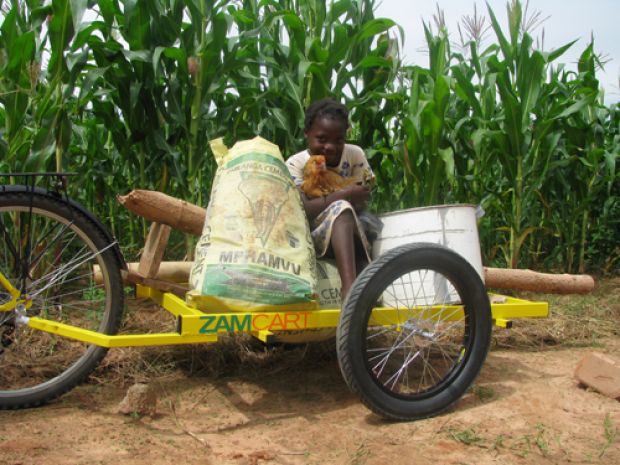 If you turn that around the other way, put a little engine on it, give it the aerodynamics of a plane, then you've got a home-made Aptera.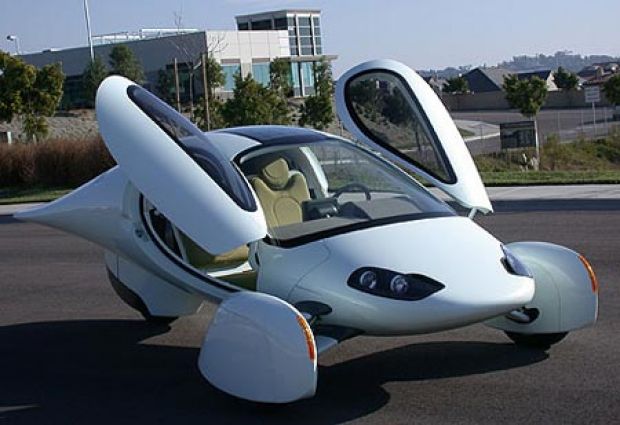 A long shot you reckon? Remember, legally, an Aptera is a type of bike… and that's another reason why innovation is probably going to happen around 3-wheelers, rather than 4. Less Industrial-Giant-Friendly regulation.
Admittedly, an Aptera is an answer to a particularly Western set of needs… but that's ok, because if you're starting with a design where the sub-systems are decoupled, then you can adapt it to do whatever suits the local conditions.