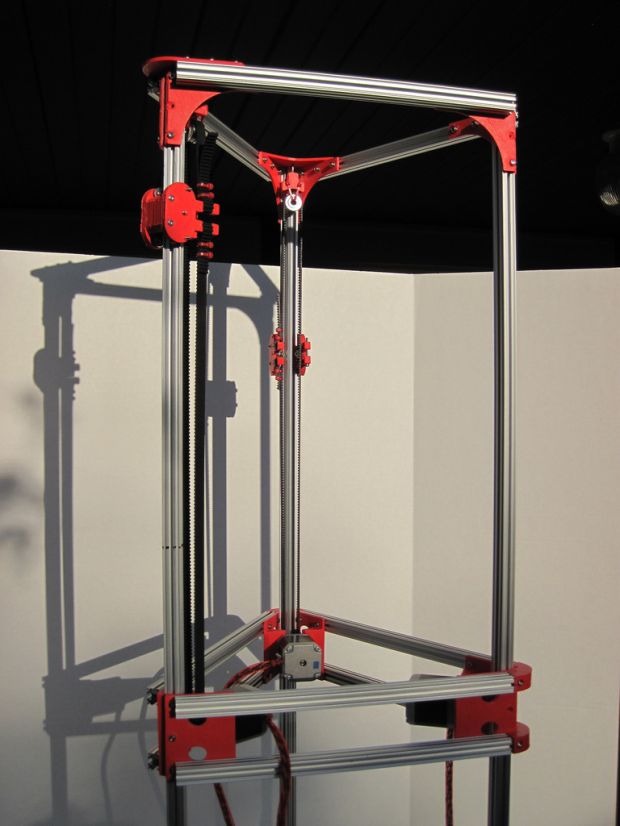 The reason it's neat is that it radically simplifies previous rostock designs by using Openbeam components… who's kickstarter thing I funded a while back, though I'm not sure if it got past the goalposts.
Openbeams are quite cool – small t-slot extruded aluminium that uses standard M6 bolts instead of expensoid custom-made parts that normal t-slots use… which from NZ is really cool because it means you don't have to wait fucking weeks for overseas suppliers to deliver. It's specially designed so printed circuit boards (or laser-cut acrylic) neatly fits into the slots.
It's actually cheaper (I think) that standard square-section aluminium… but of course being in NZ means there's huge postage whacked on top of that. This country kindof sucks in a lot of ways. It's got the highest housing costs in the OECD as well. And the internet is fucking slow. And it's run by dickheads.
So instead of using two rods, it uses one… made out of the same stuff as the rest of it is made out of… with the legoy effect inherent in T-Slot… and lo… a reprap.
Thing is though, it's a reprap made almost entirely out of vitamin parts… which I guess repraps always kindof were. I mean it's an interesting intellectual exercise making a machine that makes ALL of it's own parts – but it's kindof analagous to wasps vs birds… wasps build nests by chewing stuff up, and extruding it out of their mouths… in a fashion not dissimilar to extruded/additive 3D printing; Birds just say "fuck it, I'm going to use some twigs".
They take stuff that's off the industrial supply-chain in other words… and have designs that can route around local/temporal shortages. I think there's more vitality in the idea of "routing around any obstacle, but using whatever's available" than "aiming towards eliminating all dependencies".
Back to rostocks… check out the bearing mount: